Luxury cruise lines are plentiful, and all offer varying degrees of pampering, experiences and exotic voyages to the most unique and glorious destinations.  Here are our picks for the brands, one new ( RITZ CARLTON) small and big, but mostly for being consistent across all areas including price, value, food, on board / off board activities and delivering on an unforgettable LUXURY experience. 
RITZ CARLTON YACHT –  The Ritz-Carlton Yacht Collection offers an unprecedented opportunity to be untethered. Here, freedom and flexibility allow immersion in life's exceptional experiences; exploration of earth's exquisite and unexpected hideaways; and stirring of passions and curiosities that create new and deepened connections. All of this delivered in an intimate setting with a heightened level of care and attention
.
Viking Ocean Cruises, With 250 awards to its name, "Luxury" should be its middle name. Currently operating a fleet of state-of-the-art ships that have received numerous accolades, including the second year in a row, Viking was voted the #1 River Line and  Ocean Line by Condé Nast Traveler in the publication's 2023 Readers' Choice .
Regent Seven Seas Cruises®
consistently delivers unmatched luxury cruises with the very best value for over thirty years. Unrivaled onboard space. Unforgettable shoreside excursions. Incomparable culinary experiences. Exceptional personalized service. Every lavish amenity is included when cruising aboard The World's Most Luxurious Fleet™
Silversea Cruises, small luxury ships, There is something uniquely satisfying about a smaller ship. The intimacy. The friendly camaraderie. The excitement of exploring secluded harbours where others cannot go. The intimate, ultra-luxury ships can sail up narrow waterways into the heart of a city, or tie up right at the pier while others must anchor off shore. And for those who yearn to explore the new and unknown, Silversea's 4 expedition ships can transport you to the furthermost boundaries of the planet. Travel is the elixir of life at Silversea and every cruise is a voyage of discovery.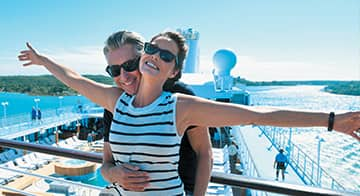 Oceania Cruises, their unique itineraries are specifically designed to showcase the most fascinating destinations across the globe. As Regatta, Insignia, Nautica, Sirena, Marina, Riviera and Vista are all small and luxurious, each ship can call on the world's most desirable ports, from historic cities to modern meccas to charming seaside villages nestled along sparkling coastlines.
Seabourn, Cruising on a Seabourn ship is unlike any other form of travel. The experience is luxurious, yet relaxed — elegant, yet casual — sumptuous, yet understated. Our intimate ships visit the most desirable destinations worldwide, sailing to the heart of landmark cities, as well as to hidden gems where larger vessels cannot follow.