Trade in your sunscreen and sandals for icebergs and adventures when you head for the untouched beauty of the White Continent. With less crowded ports, unprecedented expeditions, and the natural beauty of icy waters and wildlife, Antarctica is quickly becoming a top cruise destination. Check out the top three luxury liners that will sail you to the South Pole.
Silversea Cruises: Silver Cloud
With the highest space-to-guest and crew-to-guest ratios in expedition cruising, Silver Cloud offers unprecedented comfort to travelers looking to explore Antarctica and beyond. Upon arrival, guests are met by Silversea's attentive staff and a flute of champagne as they are escorted to their suite by their butler. Onboard, guests enjoy four world-class restaurants. At The Grill, guests dine under the moonlit sky and have the opportunity to cook their food on sourced volcanic rock right at the table. Aside from adventure and aperitifs, the ship boasts the serene Zagara Spa, industry-leading service (be met with a towel as you emerge from the pool), and – unique to Silver Cloud – a state-of-the-art photo studio where budding photographers can transform prints from their cameras.
Abercrombie & Kent's Le Lyrial
Abercrombie & Kent's newest charter ship from Ponant is an expeditioner's dream. Aside from the sleek style and sophistication of the ship itself, and of course the balcony staterooms and suites, the real distinction of traveling on an A&K charter of Le Lyrial is the award-winning team of experts. Akin to an education at sea, A&K's expeditions are led by the most experienced marine biologists, ornithologists and geologists, along with a shipboard historian who shares tales from Heroic Age of Antarctic Exploration. When you're done exploring, your private butler will tend to your every need, from cocktails on your balcony to arranging for your personal hairstylist.
Quark Expeditions
Set for sail in 2023 Quark Expeditions unveiled its newest ship in polar explorations. Cutting edge technology, advanced safety measures and a vastly experienced expedition team are just a few reasons to set your sights on this ship. Think of it as a 5-star hotel on the sea. Leaving no stone unturned, guests will have access to dual helicopters, indoor / outdoor dining,  spa and fitness, and a rapid Zodiac.
Frequently Asked Questions
What is the difference between an ice-strengthened ship and an icebreaker ship?
An ice-strengthened ship is a ship made of steel. These ships are made to get through the ice at Antarctica and the Arctic. Nowadays, most of the ships that cruise to Antarctica and the Arctic are ice-strengthened ships. Ortelius and Plancius Read more »
What kind of clothing should I take during my expedition cruise?
We require you to bring a waterproof jacket and pants (minimum 15,000mm rating) for Zodiac cruises to shore. You will also need high rubber boots for trips on Rembrandt van Rijn. Apart from that, our advice is to take warm, windproof, waterproof Read more »
You must be in good general health, and you should be able to walk several hours per day. The expedition is ship-based and physically not very demanding. Although we spend as much time as possible on shore, you are welcome to remain aboard the ship i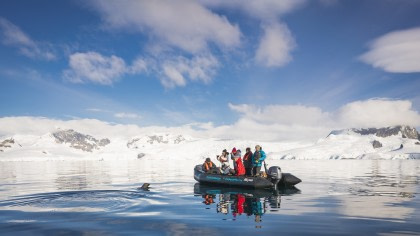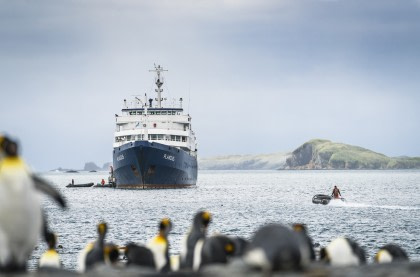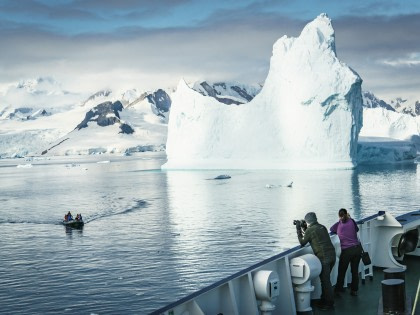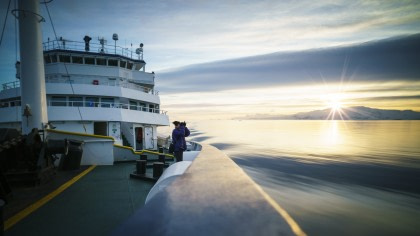 21 photos of Oceanwide Expeditions
About Oceanwide Expeditions
Passionate
Taking you closer to the heart of the polar regions has been our driving passion at Oceanwide Expeditions for over twenty years. Our knowledgeable cruise leaders, committed staff, and thoroughly outfitted vessels are our way of expressing what we care about most: making your cruise to the Arctic and Antarctic truly unforgettable. When you sail with us, you experience a part of the world that is unlike any other. Mountainous glaciers, snow-swept shores, whales and polar bears and vast colonies of penguins make up this world, and they are all part of the surreal ecosystem you can watch unfold before you on your future Oceanwide expedition.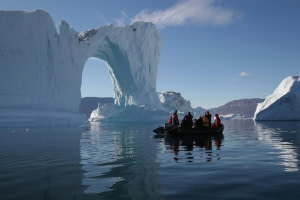 Adventurous
Providing you a travel experience that inspires (and is inspired by) you, that's what taking you closer to the heart of the polar regions means to us. We get you away from the vessel and into the action as fast as possible: up to two landings per day in the morning and afternoon, with a fleet of inflatable Zodiacs ready to shuttle you past the ice floes and onto the shore. We keep our programs flexible so that you get the most out of whatever surprises nature has in mind. When you sail with us, the cruise is just the tip of the iceberg.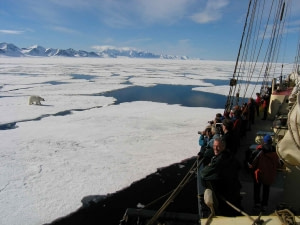 Pioneering
So what exactly is beneath the tip of that iceberg? The pioneering spirit, which all travelers to the polar regions (regardless of age and background) have in common. Guiding our expeditions with passion, tapping into the desire for inspiration and beauty, and always taking you closer to the heart of the Arctic and Antarctic – at Oceanwide Expeditions, that is our promise to you.